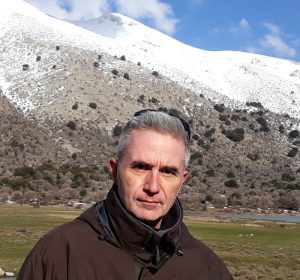 EVOO.gr is the creation of one man, Kostas Milt. Koutrakis, who was born and lives in Heraklion, Crete, Greece and is currently involved in the production of olive oil.
He initially studied Electrical Engineering at the TEI of Heraklion, then obtained a Master in Electronics (M.Sc. in Electronic Engineering) from the University of Wales, College of Cardiff, United Kingdom. He dealt with computers professionally for over ten years, as a Web Developer.
In 2013 he was introduced to the world of olive oil through the seminars of OliveOilSeminars.com (OOS) by Vassilis Frantzolas. In December 2014, completely by chance, he produced an extra virgin olive oil with values for Fruity-Bitter-Pungent 6-5-5 respectively (organoleptic measurement by the accredited laboratory MultichromLab). Then he was convinced that the family olive grove, which was not particularly cared for, had the potential for great olive oils. In 2017 he was trained and certified as an Olive Oil Tester, by OOS in collaboration with the National Organization of Italian Olive Oil Testers (ONAOO). He planned and implemented OliveOilAddicts.gr, an application that enables the remote continuing education of Olive Oil Testers.
The idea for the creation of EVOO.gr came from Spain. There, a public body records the characteristics of all olive oils produced nationally and creates a database every year, in which a producer can search for olive oils of specific specifications, mainly for the creation of blends. EVOO.gr can be used for the same purpose, but mainly hopes to become an easy-to-use tool in the hands of the Greek olive oil producer, for better access to the market.